Planning Nutfield's 300th Anniversary Celebration
This page tracks area work to plan and execute a successful 2019 Celebration. See the Events page for descriptions and a
To get involved and help make it happen, please submit the SIGN UP TO HELP! form.
Below find:
Planning meetings schedule and notes.
Anniversary preparations are underway through the historical societies, libraries, schools, churches and other groups in Derry, Londonderry, and Windham. This page will describe these plans as they develop, and provide related resources and information.
Below find info on the planning, related blog posts, local press coverage, and more.
The next Derry Nutfield 300th Planning Meeting is:
Sunday April 8, 2:00–4:00pm
First Parish Church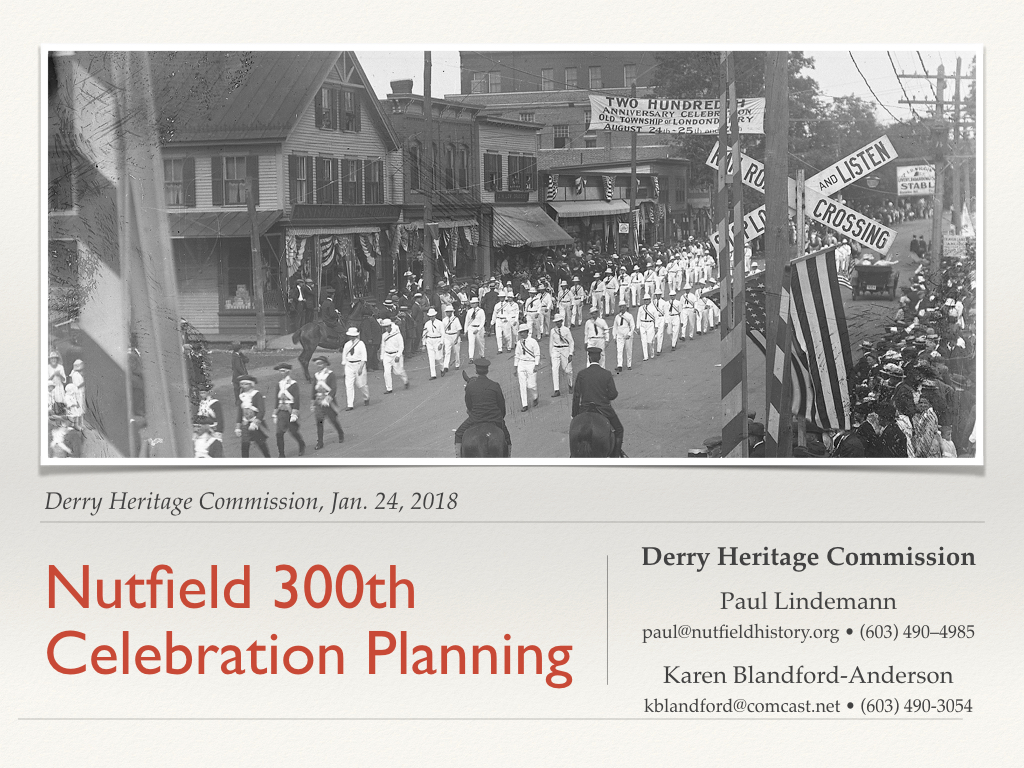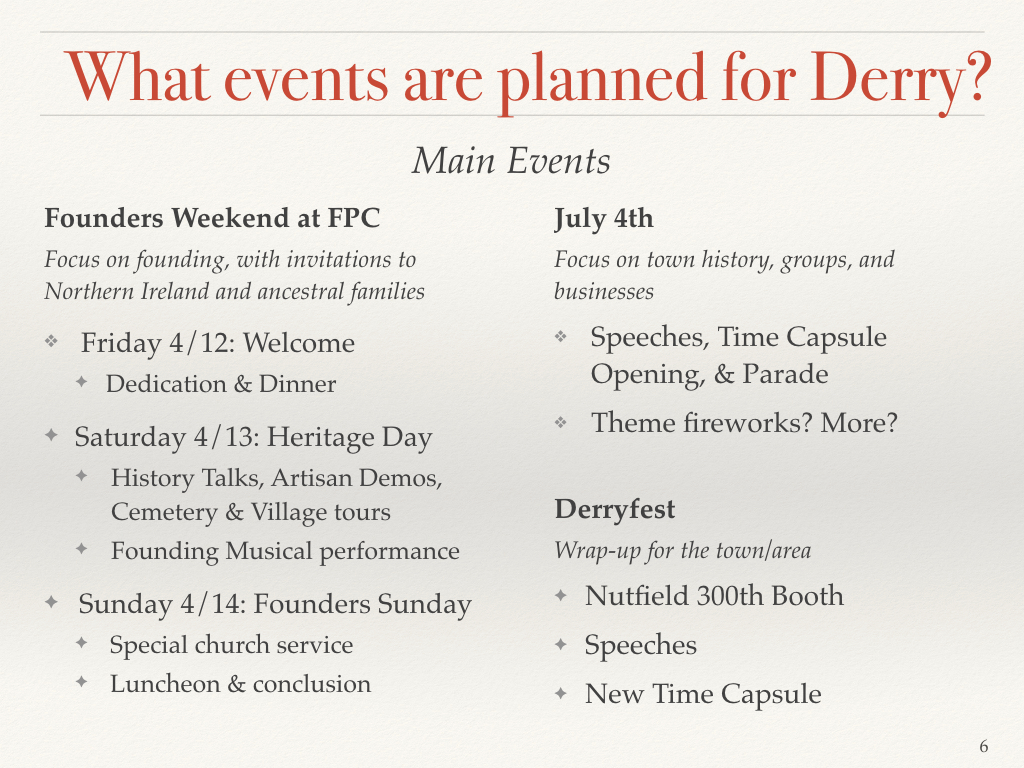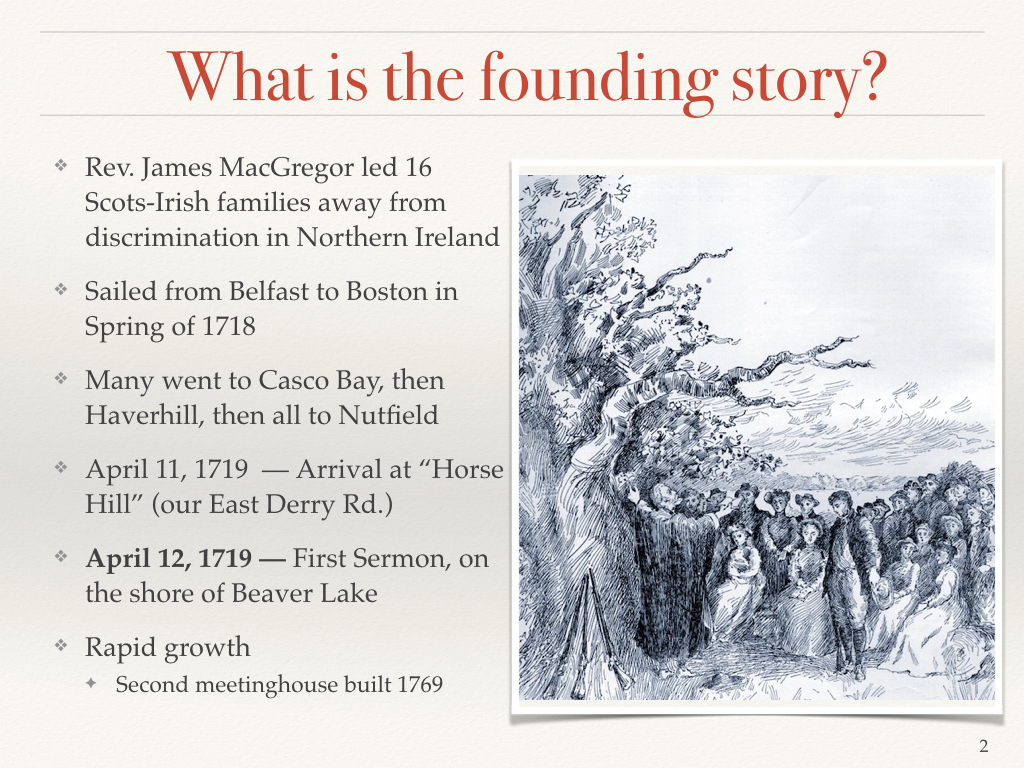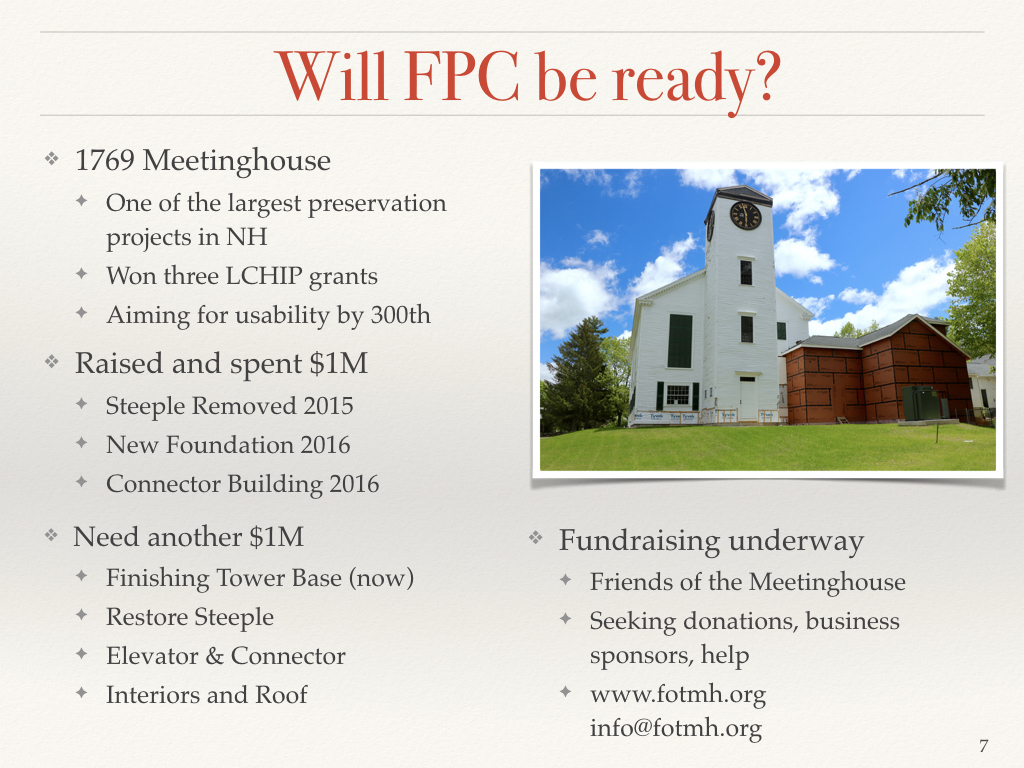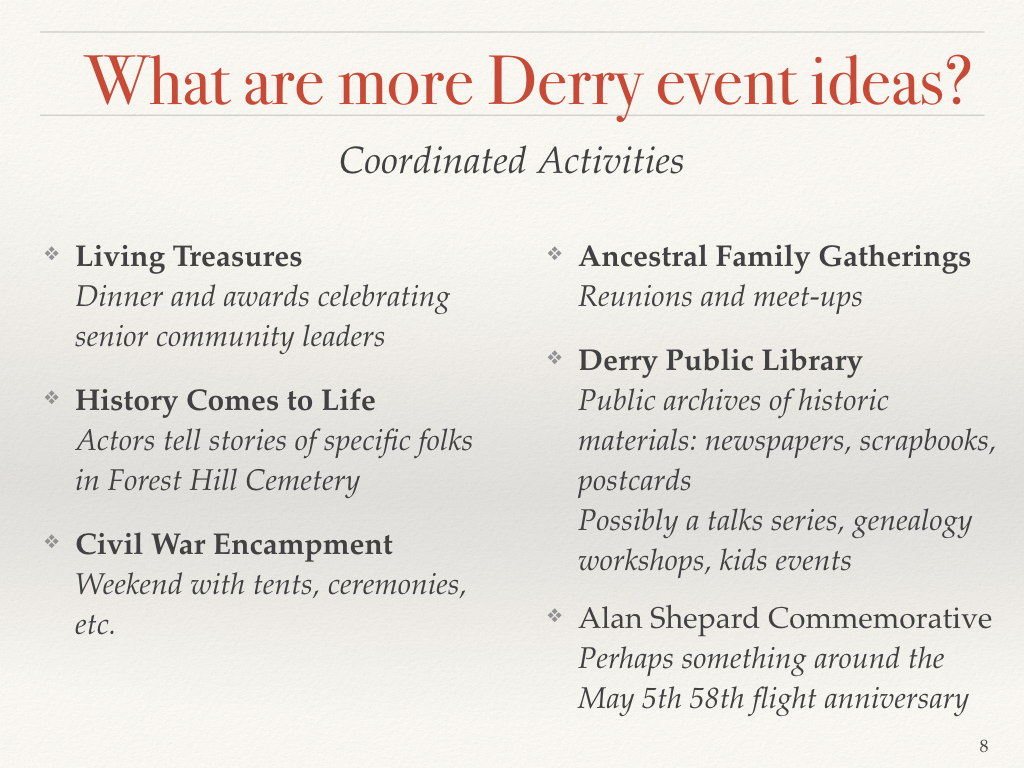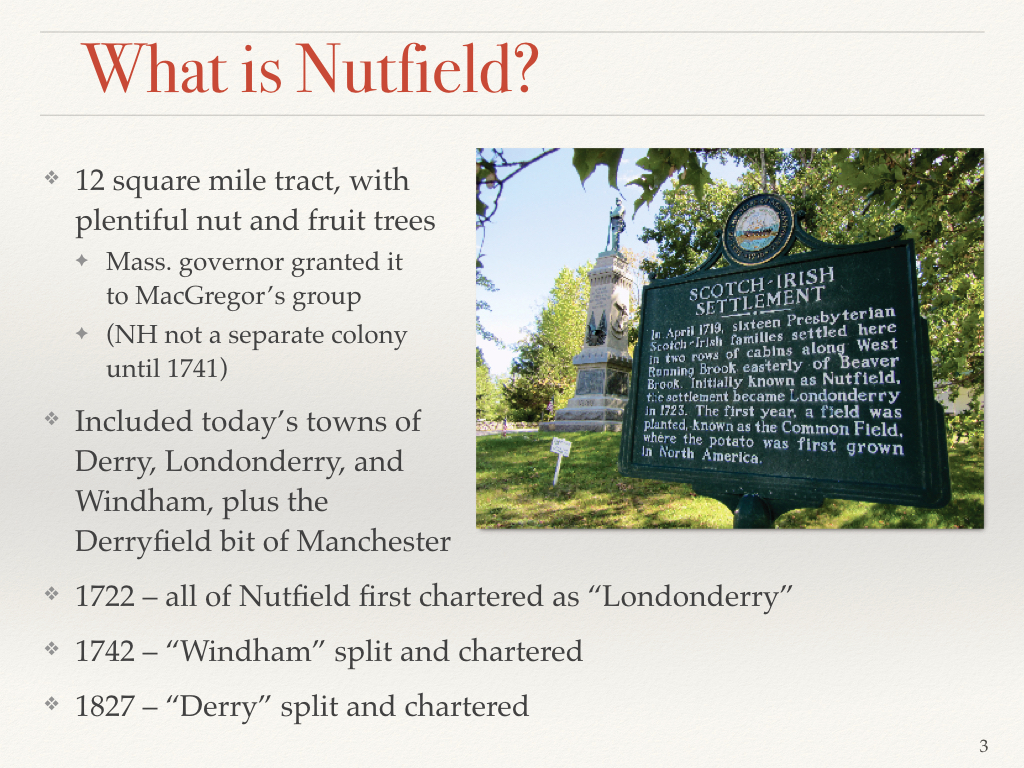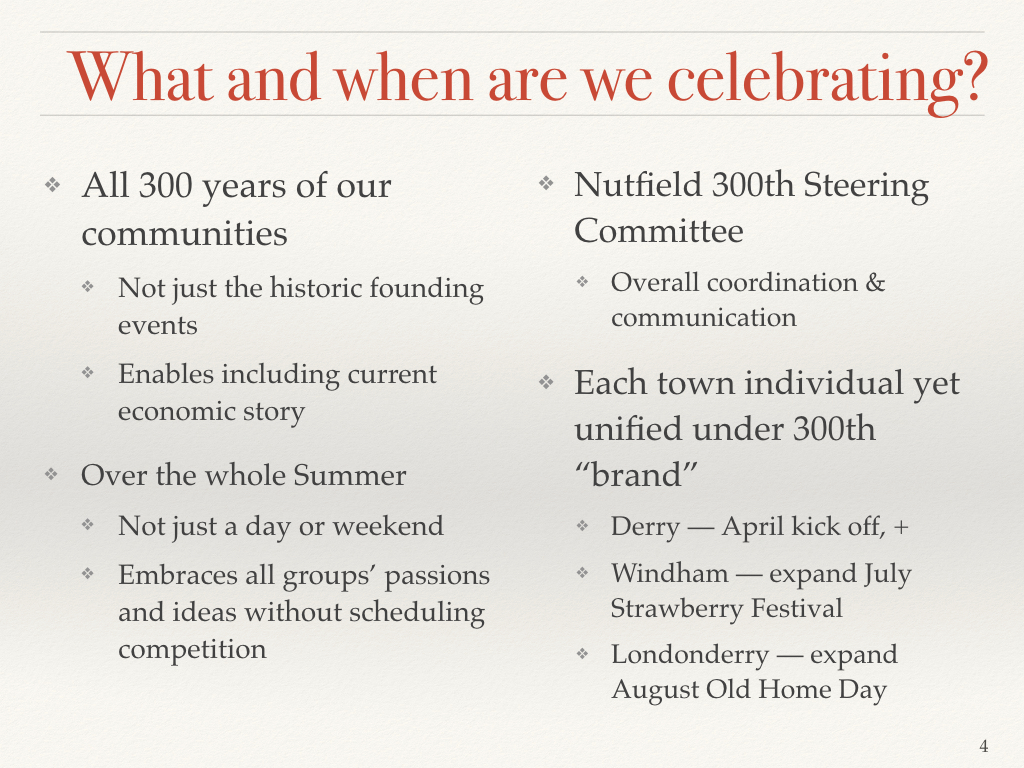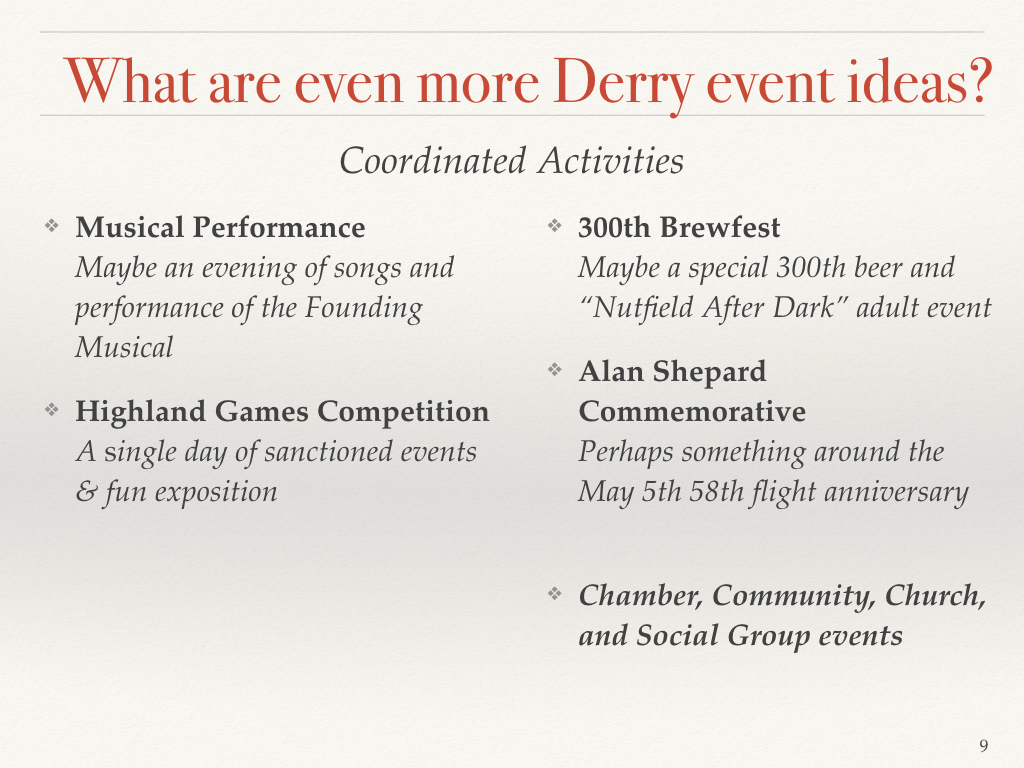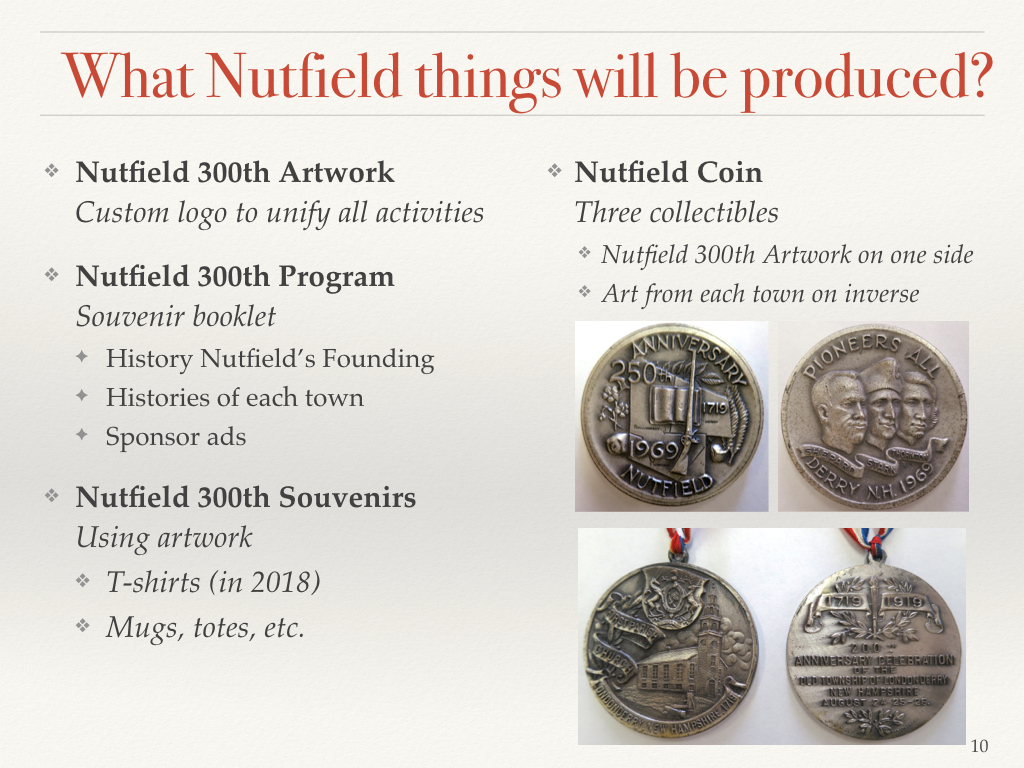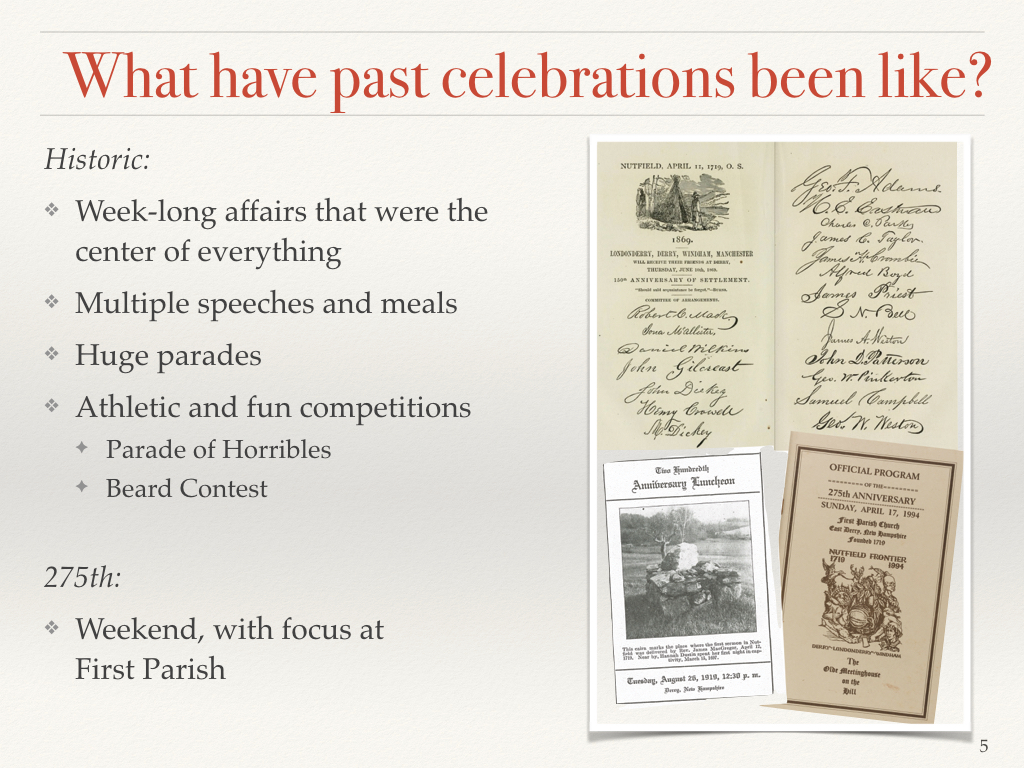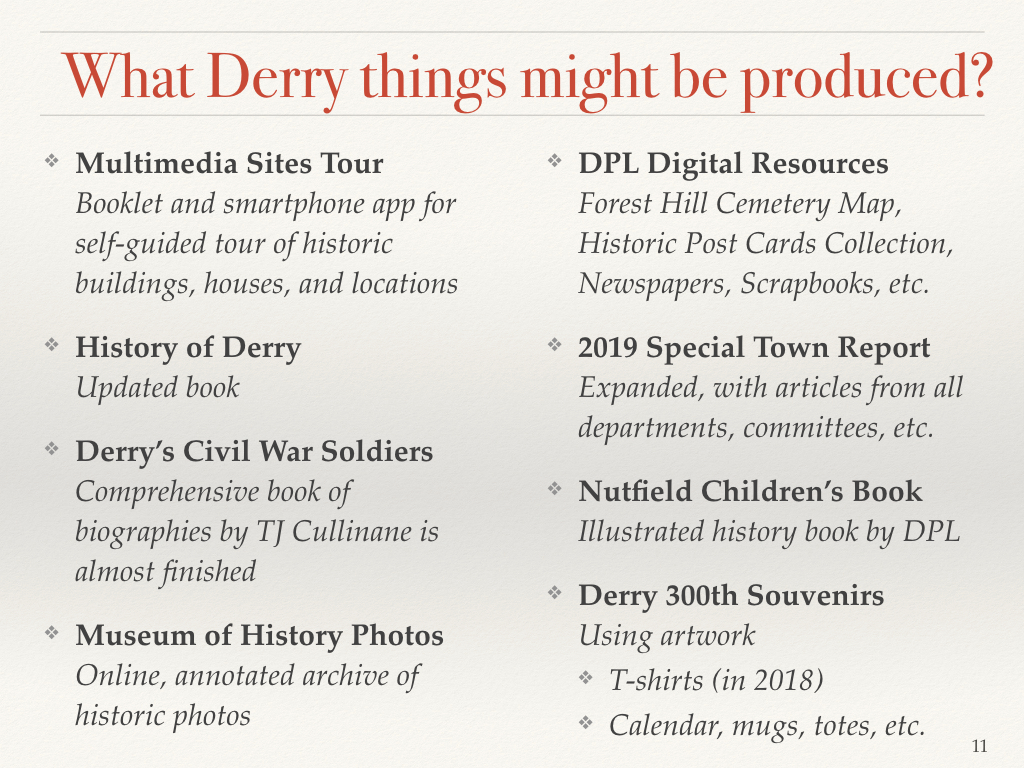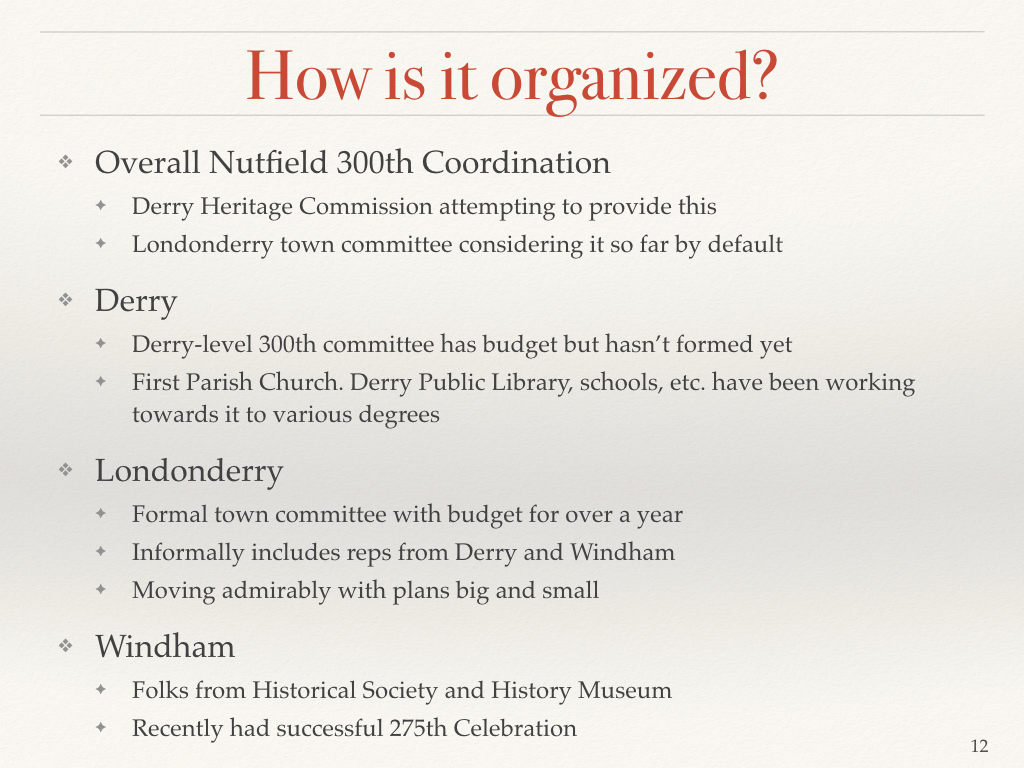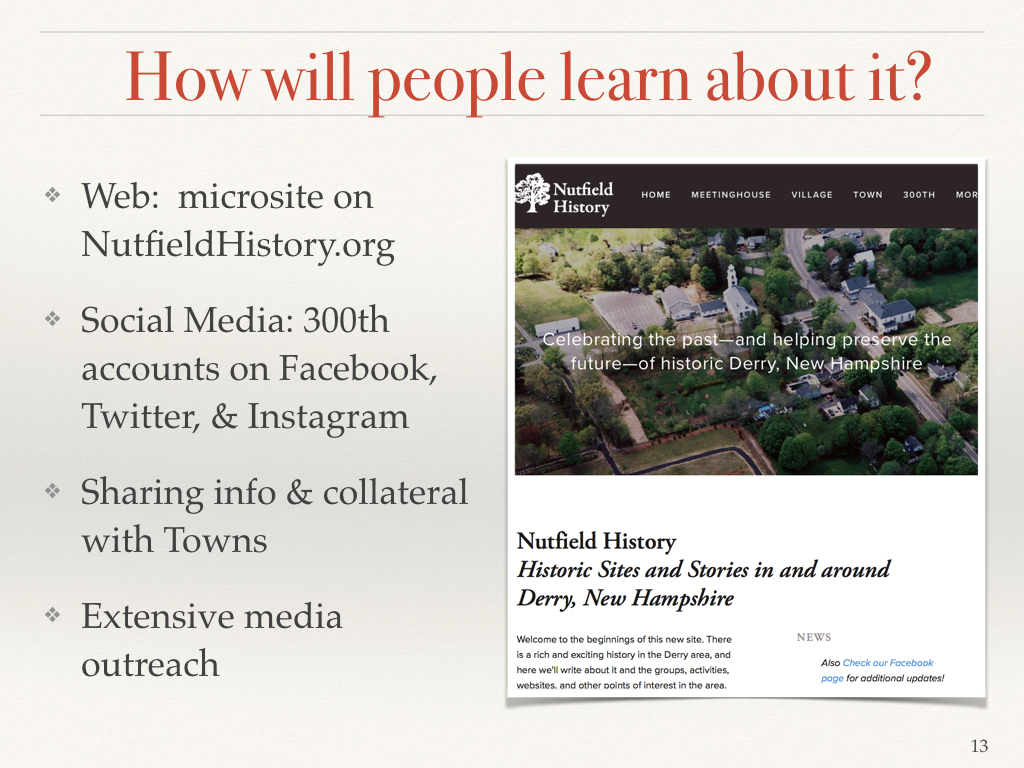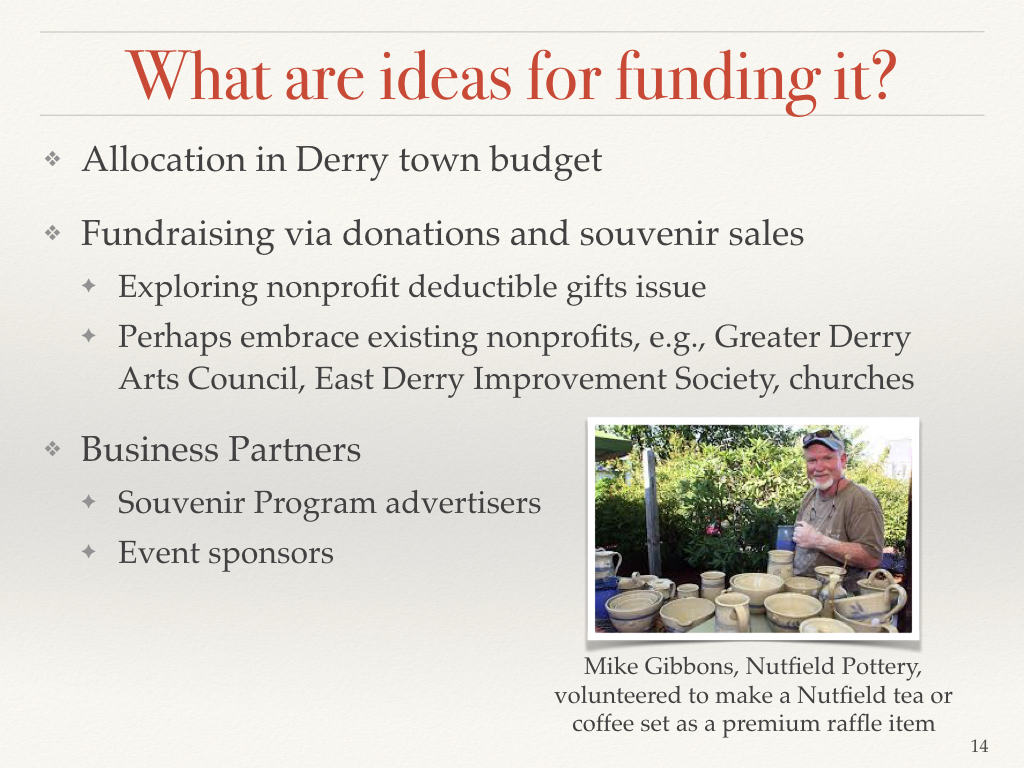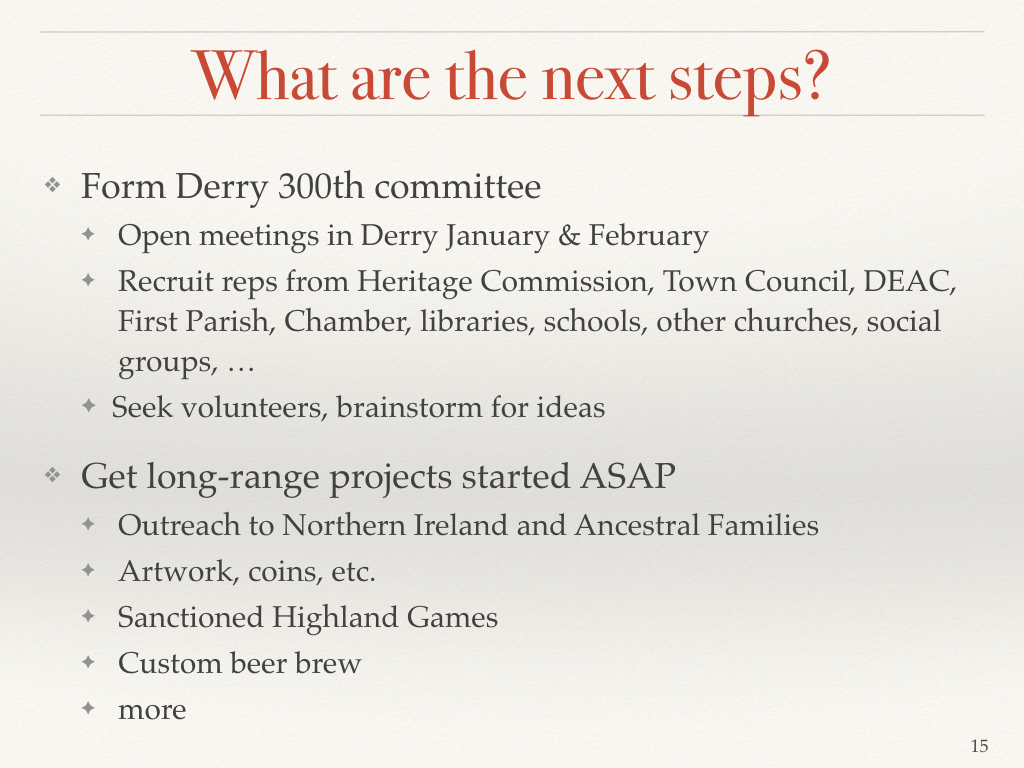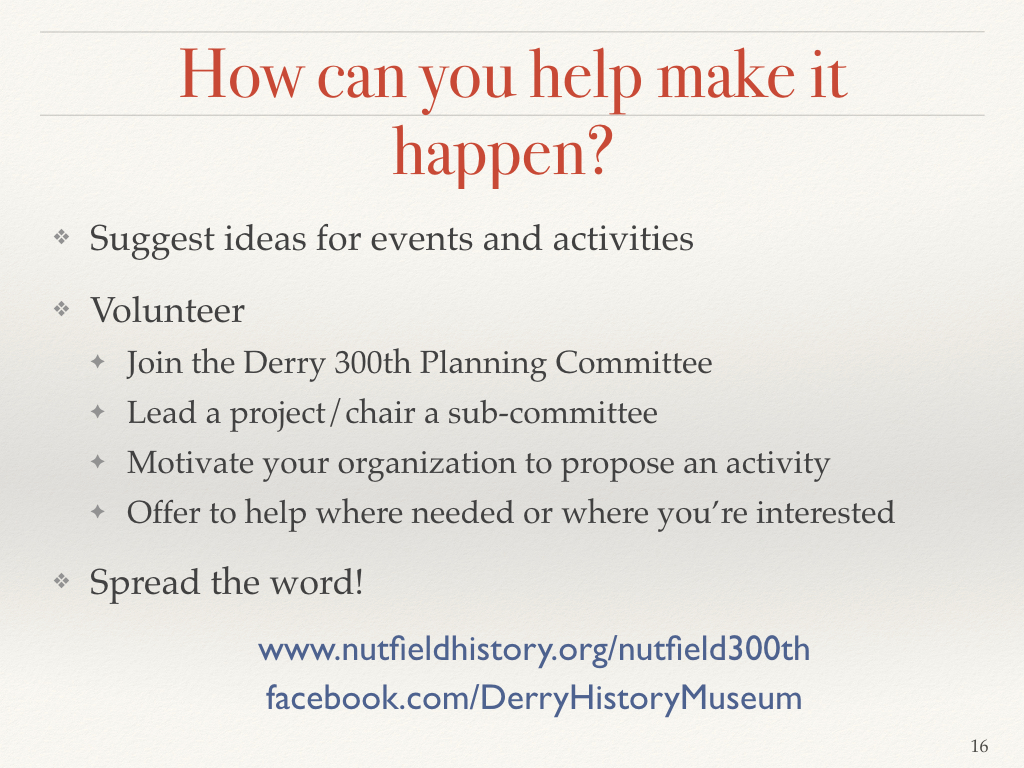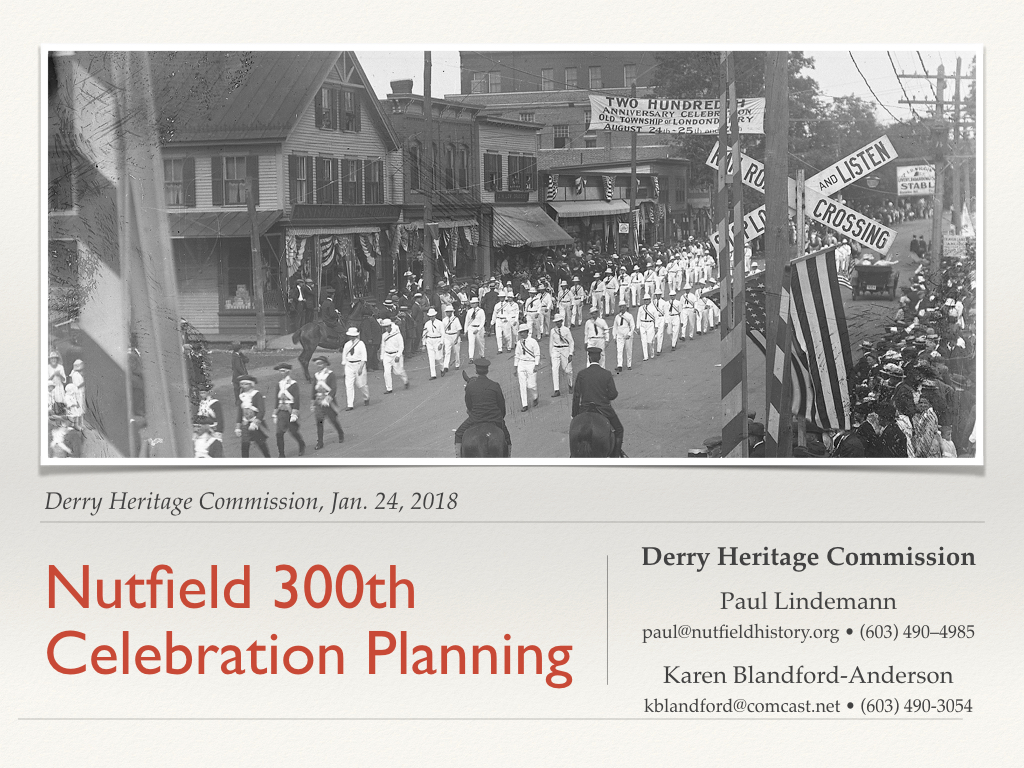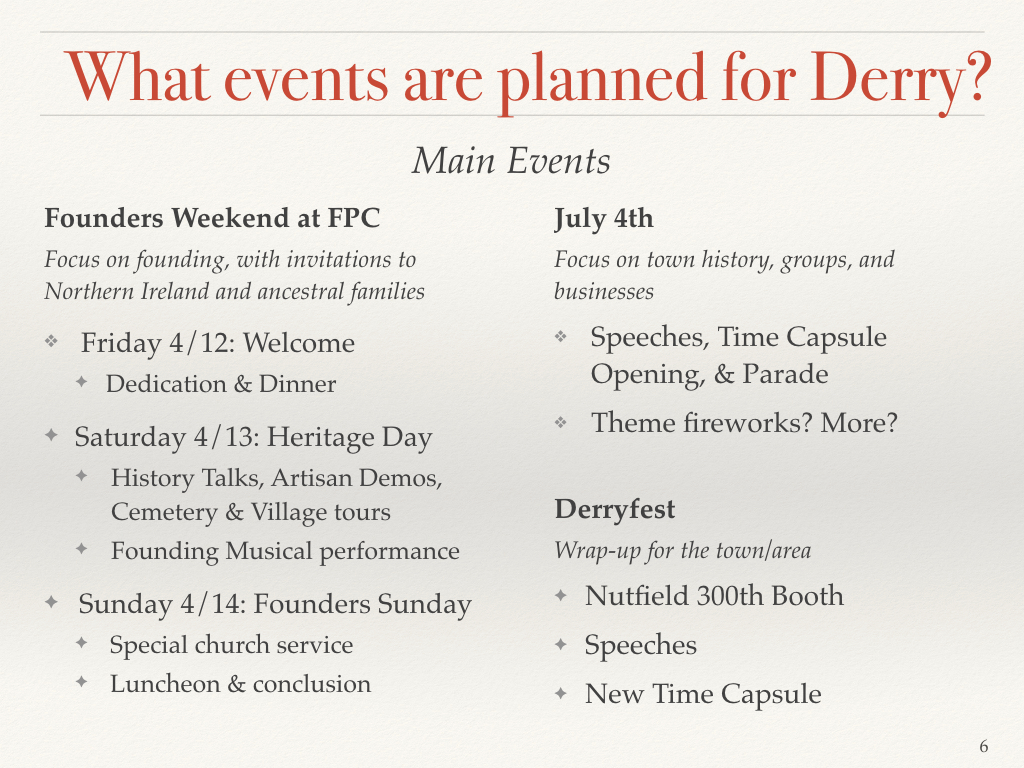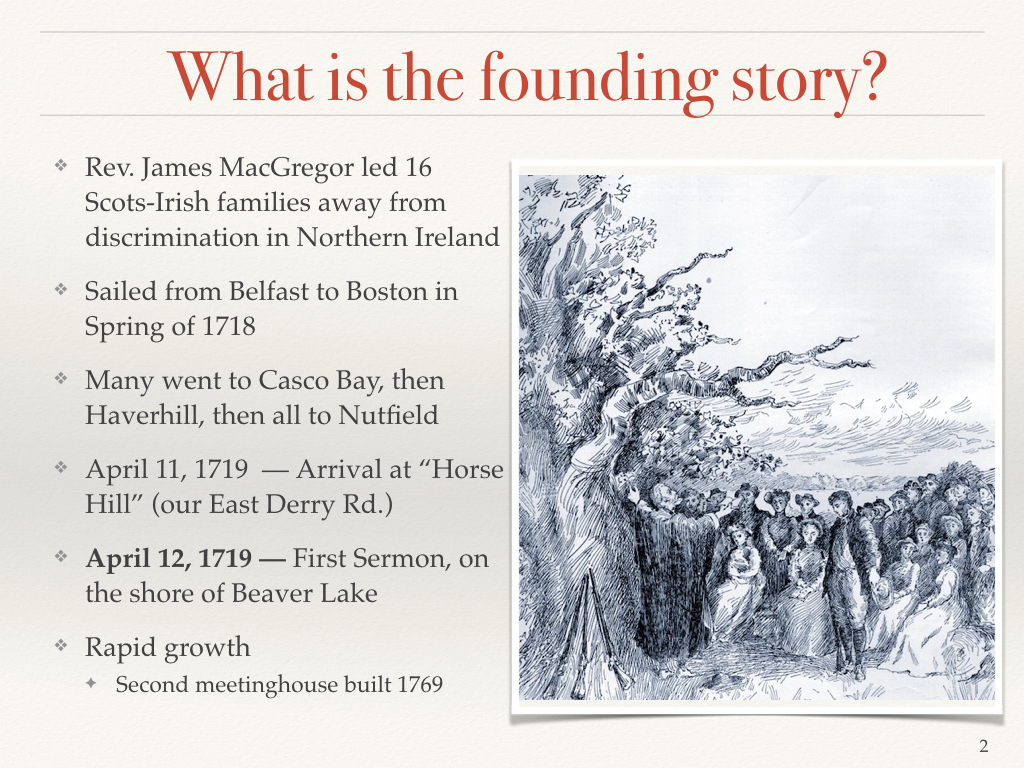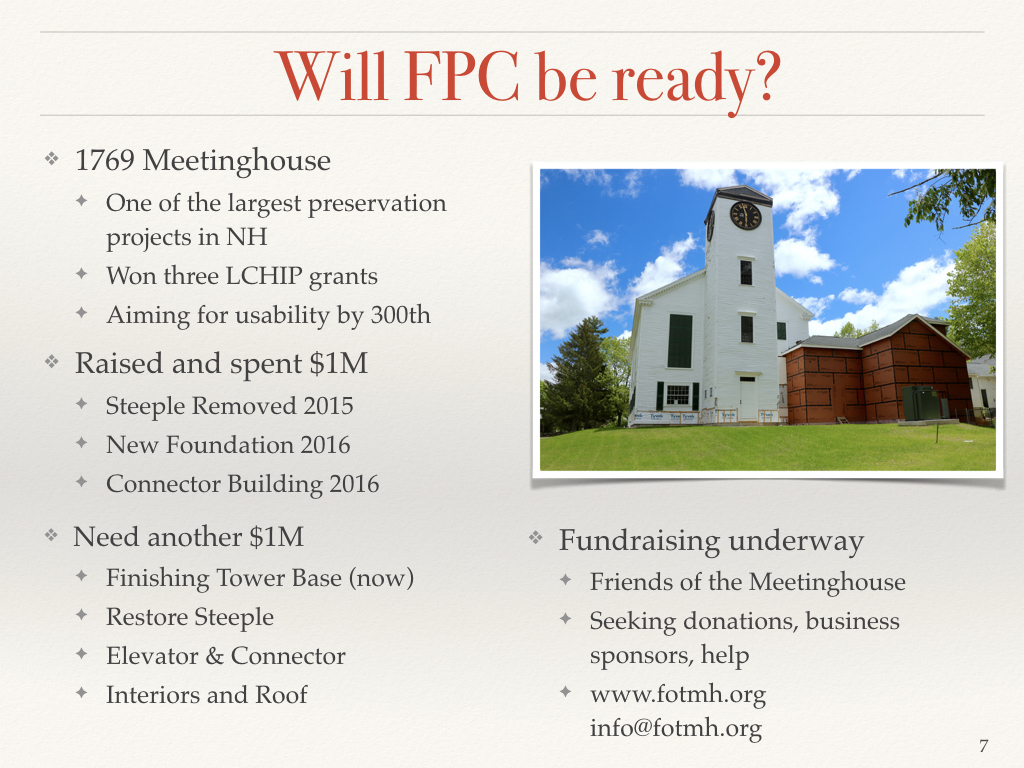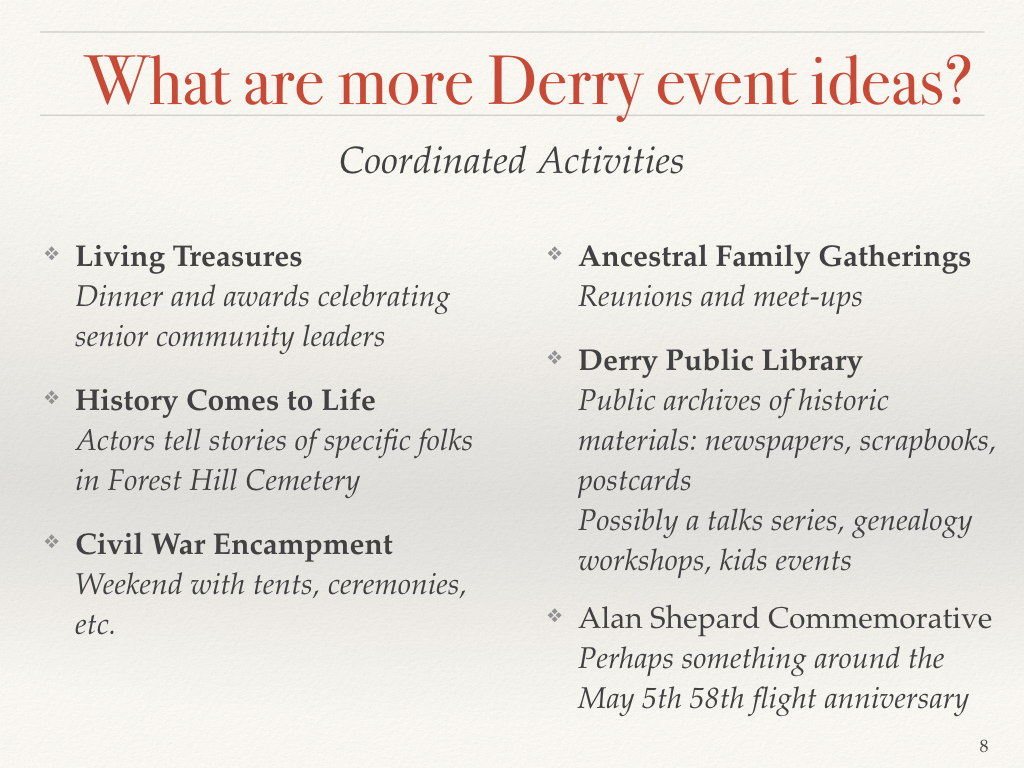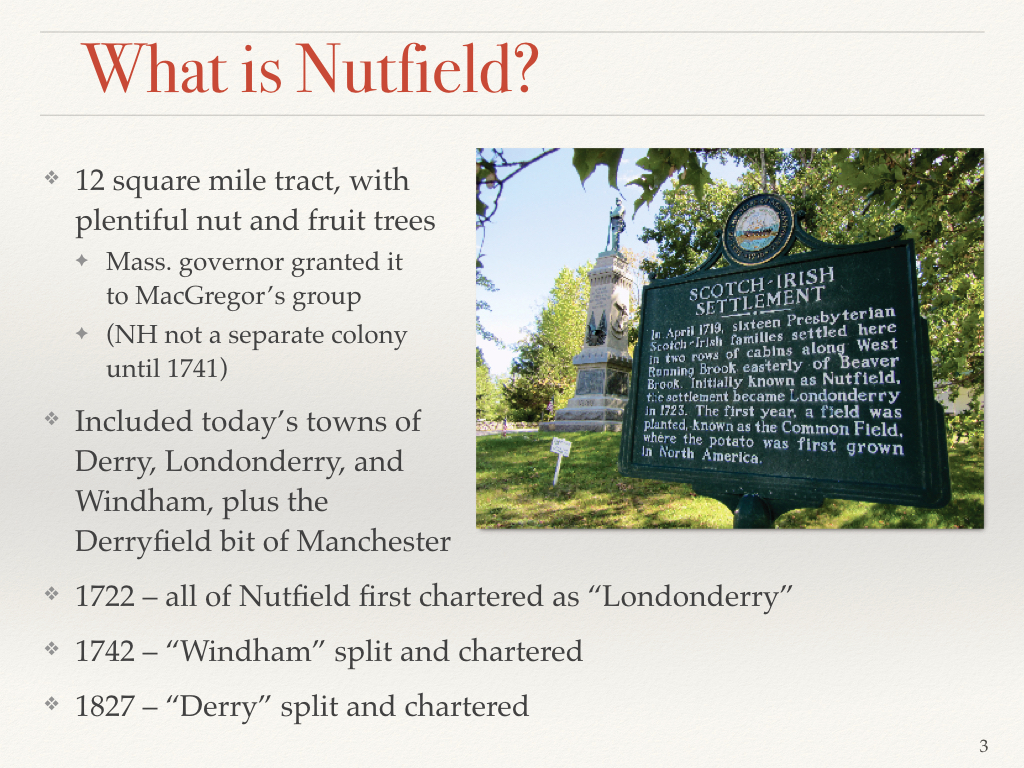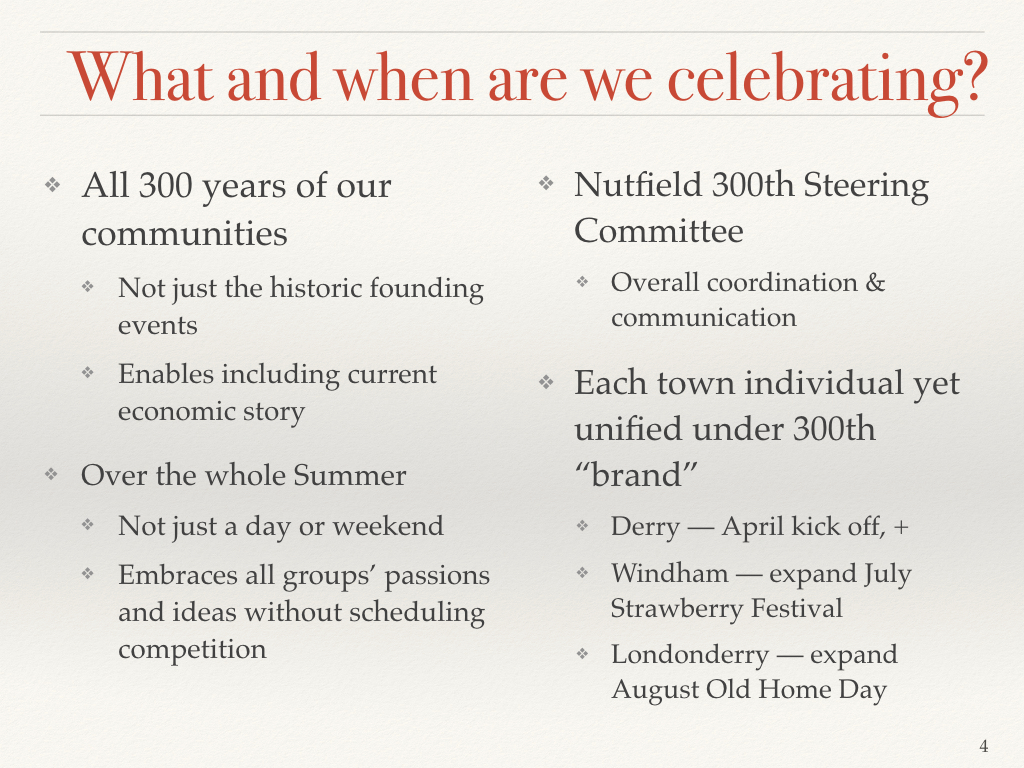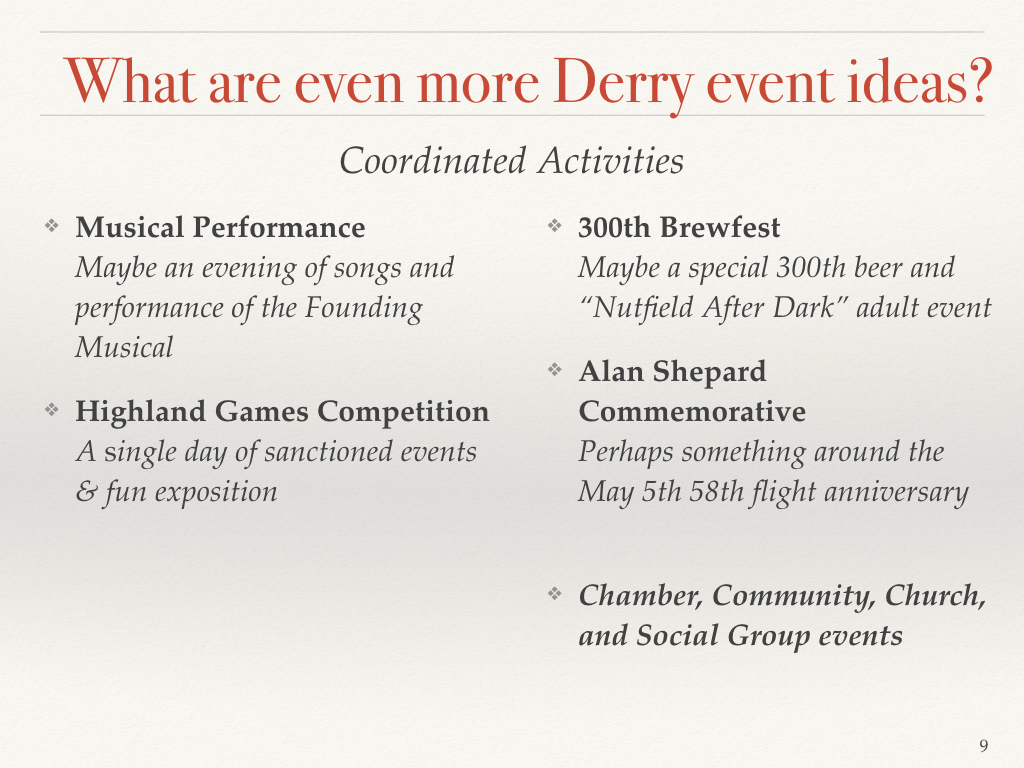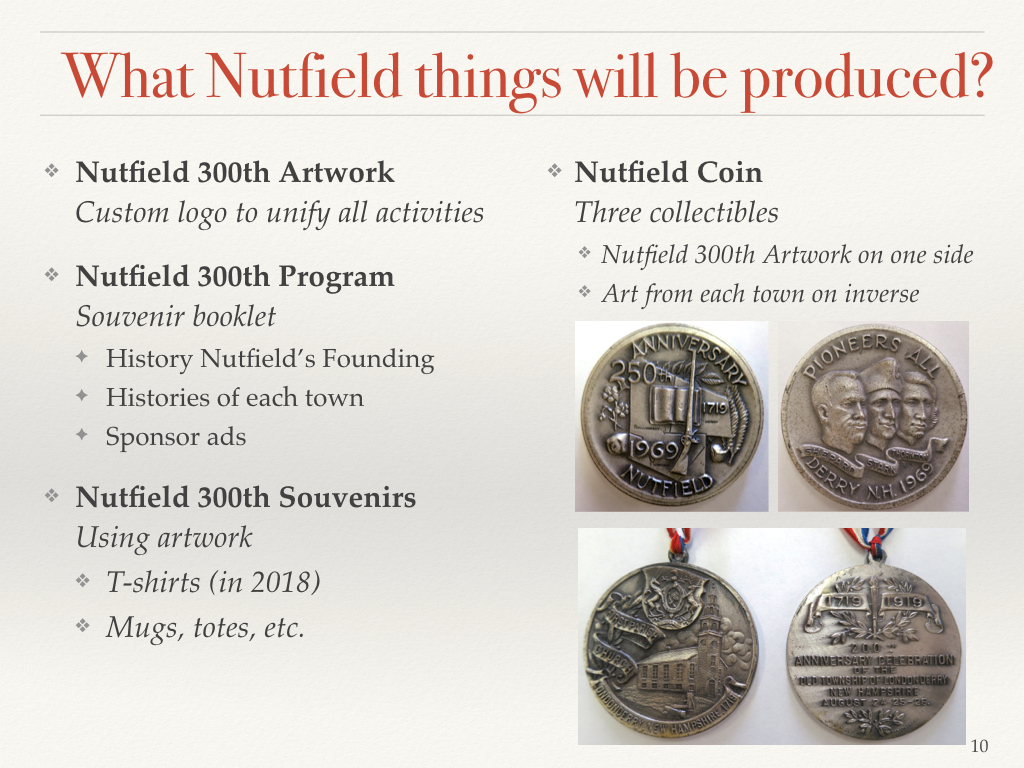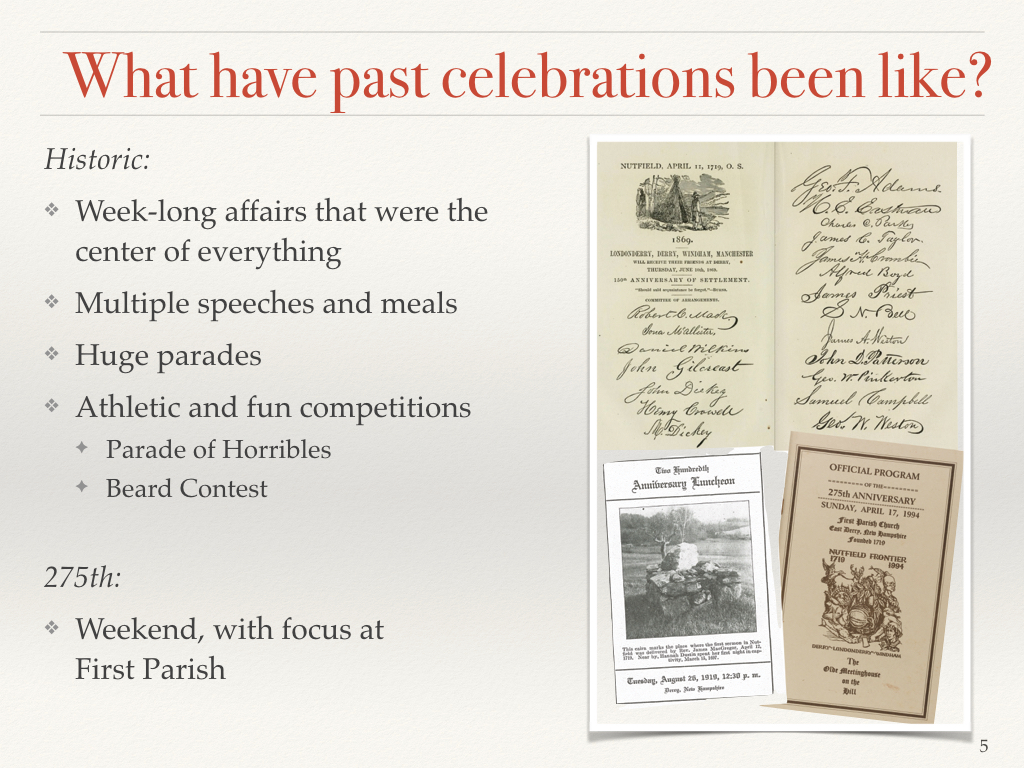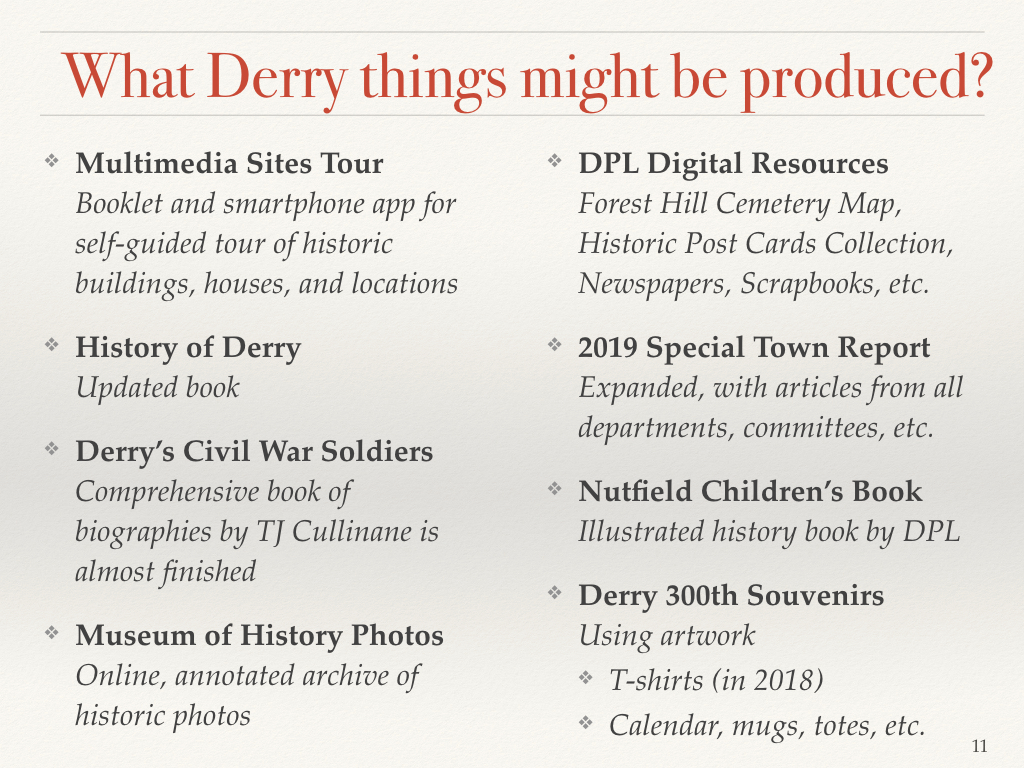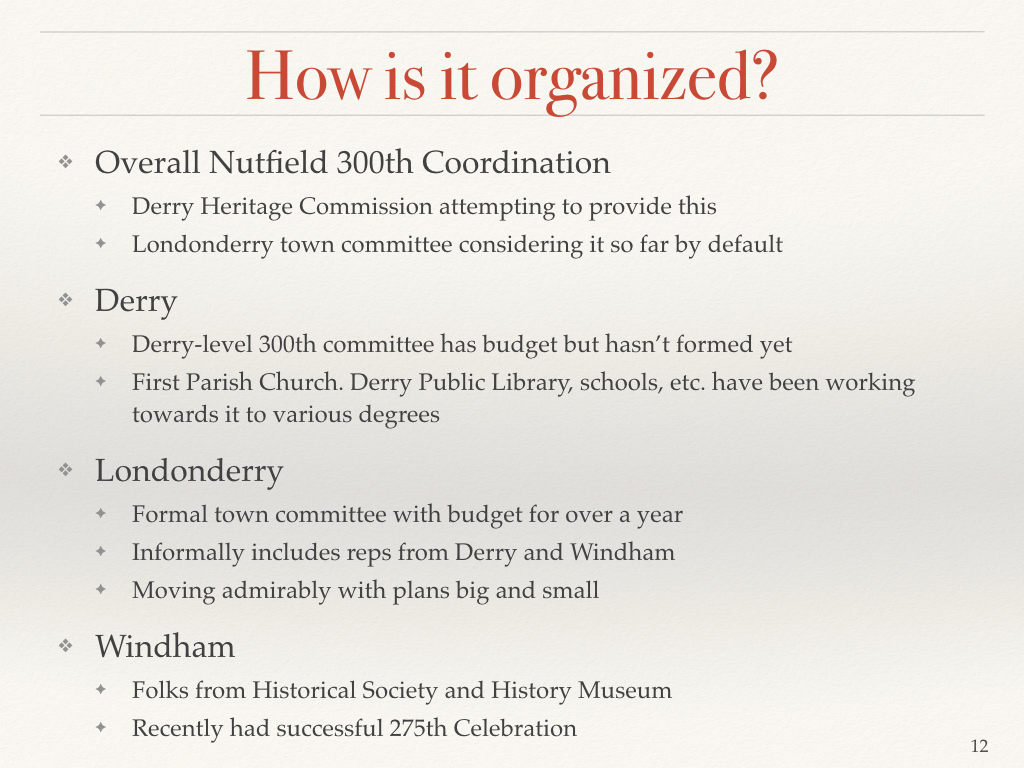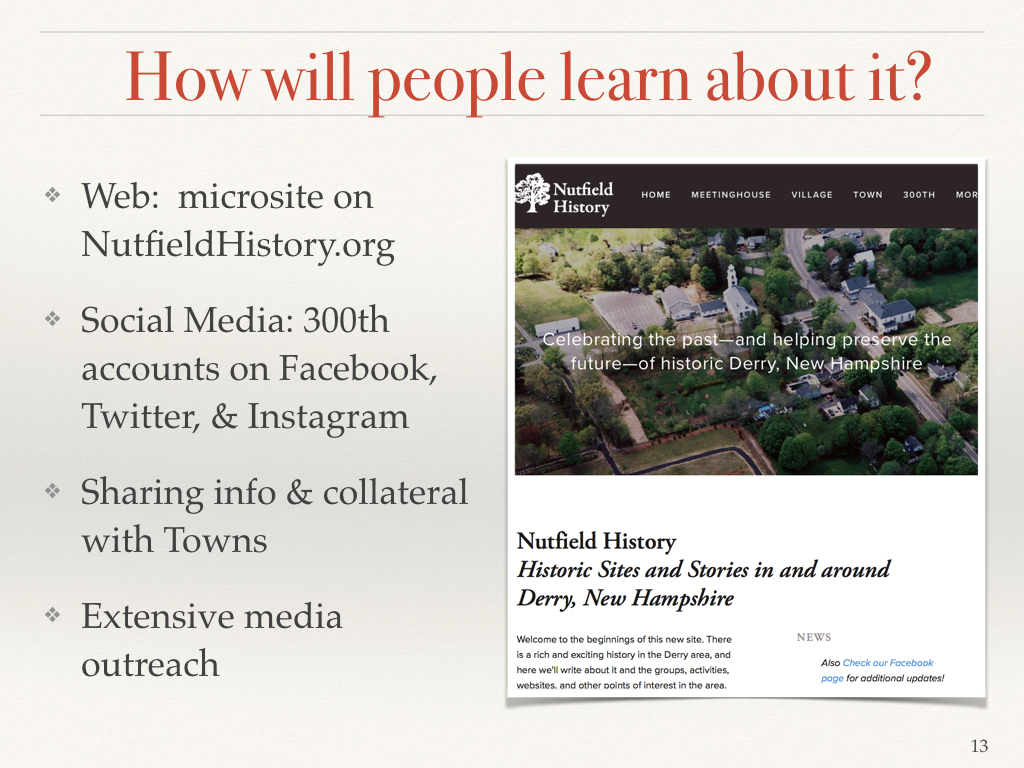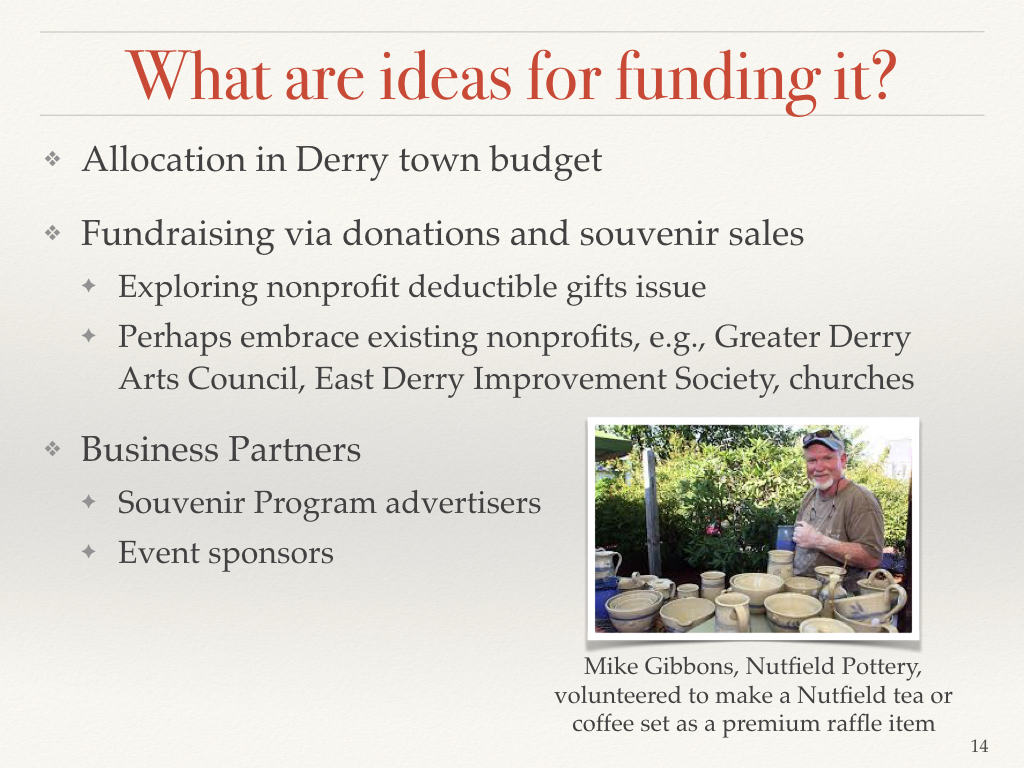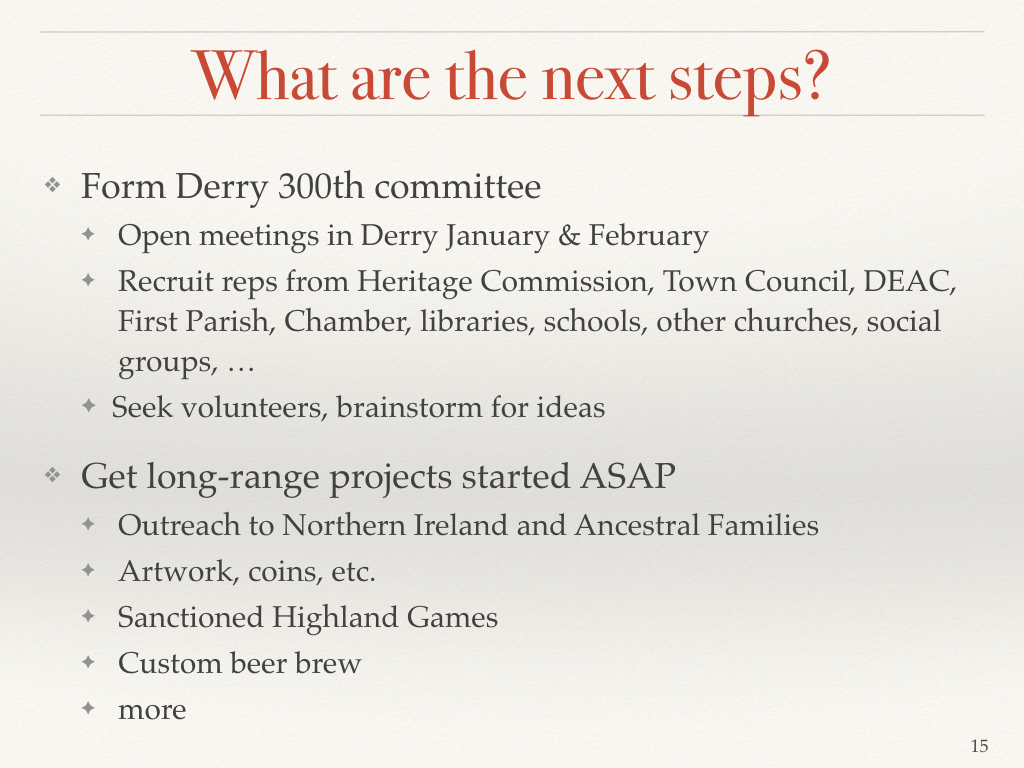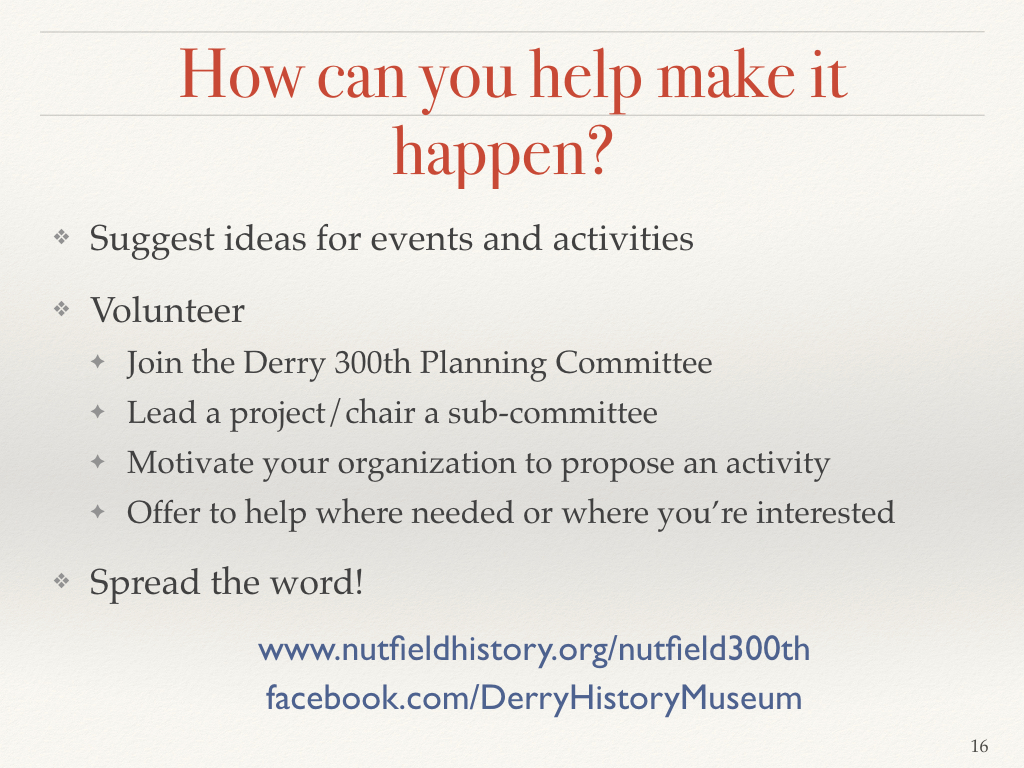 Key Dates
Celebration activities will run over several months so that every group can conduct their own 300th activities without schedule competition. Initial thoughts for the beginning and end of the Nutfield 300th Celebration are:
Activities kick off at First Parish Church in East Derry (where the first settlers first settled) in April, 2019 (the First Sermon on April 12, 1719 is considered the founding event).
Activity conclude in conjunction with Londonderry Old Home Day, which runs the third week of August, 2019.
Nutfield Celebration Ideas
A growing list of brainstormed events and activities from various sources.
Commemorative coin, ornament, or other keepsake
Illustrated children's book telling the Nutfield founding story
Highland games exposition
Regional culmination with joint fireworks etc.
Beard contest
Incorporation in local school curriculums
Parades, possibly multiple, in different communities and/or themed
Commemorative service and Founder's Day activities at First Parish in East Derry
History lecture series
Scottish clan gatherings
Ancestoral families outreach
Printed program(s)
Art show or contest
Enactments, of town separations, depictions of early life, military events, etc.
Related Blog Posts
Planning Continues for Nutfield Towns' 300th Anniversary
March 25, 2016, by Kaitlyn Woods, Londonderry Times
Londonderry's Nutfield 300th Anniversary Committee members discussed recruiting representation from the other participating communities – Windham, Derry and Chester – and hosting a celebration over several months.
Representatives from Windham's Historical Society and First Parish Church in East Derry discussed with the planning committee at their meeting Monday setting tentative dates for the celebration and collaborating events in each of the communities. Read more ...
Early planning revs up for Nutfield 300th anniversary
March 16, 2016, by Eli Okun, Manchester Union Leader
LONDONDERRY — The 300th anniversary of Nutfield's founding may still be more than three years away, but people in several local towns are kicking preliminary planning into gear.
Londonderry, Derry and Windham — all of which derived, at least in part, from the original 12-mile tract known as Nutfield in the 18th century — have the beginnings of 300th-related endeavors underway. Read more ..
Historic church, steeple will honor Nutfield's 300th
First Parish Church readies for anniversary in 2019
Jan 27, 2016, by Julie Huss, Derry News
When the area's original Nutfield settlement celebrates its 300th anniversary three years from now, one historic church will be ready.
First Parish Congregational Church will be a focal point for the celebration and is now undergoing major renovations projects and repairs. Read more ...
Committees and Groups
Derry Nutfield 300th Anniversary Committee
At the Town Council's January 5th, 2015 meeting, the Derry Heritage Commission proposed that Council vote to support the formation of a committee to coordinate and plan Nutfield 300th activities. The motion was made and unanimously approved:
Move that the Town of Derry form a Nutfield 300th Anniversary planning committee, chaired by the Heritage Commission. This committee will actively coordinate all interested groups and citizens in the area interested in participating in the Celebration, and return to the Town Council for reporting and budgetary requests.
Motion by Councilor Katsakiores, seconded by Councilor Bourdon
The Heritage Commission plans to return in early fall 2016 with a proposal for the charter and make up of this new committee, and to then formally begin preparations.
Londonderry Nutfield 300th Anniversary Committee
See the town website for committee members list and info.
WINDHAM HISTORICAL SOCIETY and Windham Museum
These groups are working together to first plan the Town of Windham's 275th Anniversary in August 2017.